Description
Smok Novo 4: 800mAh/25 Watt Variable Wattage Pod System Kit
Here are cheap deals to buy the Smok Novo 4, the latest pod kit in the long series of Novo devices.  This pod system features tiny measurements, an 800mAh integrated cell, 25 watts of maximum power, variable wattage settings, a 90 minute charging time, leakproof cartridges, an intelligent atomizer detection system, a side-fill system, and an included 0.8ohm mesh coil.
Tiny Design & 10 Color Options
From a design viewpoint, the Novo 4 carries on the size and appearance of previous Novo devices such as the Novo 2, Novo 3, Novo X, and Novo. In fact, the kit only measures 17.7mm by 26.5mm by 93.5mm and weighs only 51.7 grams, quite similar to its predecessors. This also means you can simply place the new AIO vape system in your pocket or purse without any hassles.  Yet, the appearance looks somewhat new thanks to incredible finish colors: blue-grey cobra, cyan pink cobra, red stabilizing wood, black stabilizing wood, black carbon fiber, silver carbon fiber, fluid black grey, fluid 7-color, black armor, and white armor.
Moreover, the unit features a zinc alloy chassis for durability, a very hard material.  This means that the Novo 4 can withstand any accidental collisions, as well as the daily wear-and-tear of use.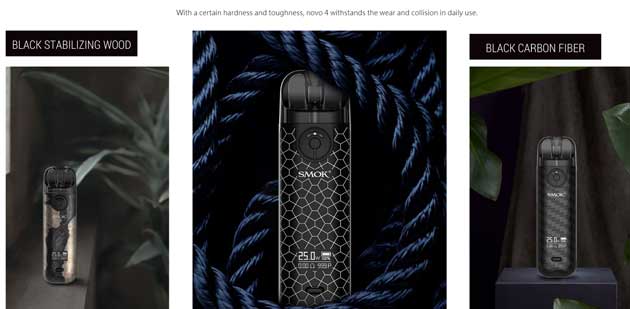 On the front of the mod section, you'll also see a small monochrome display screen with a user interface that is easy to read.  On the menu, you may see certain essential vape data such as the current wattage, the charge level of the internal battery, the resistance of the coil inside the pod, and the number of puffs taken.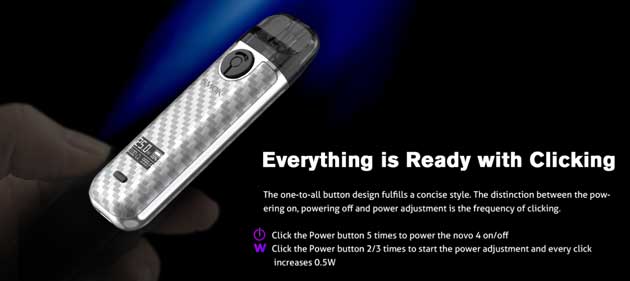 At the top of the same side of the Novo 4, there's a power button that has many different functions.  For example, you can click the mechanism 5 times to turn the device on/off or 2 to 3 times to make adjustments to the power output in increments of 0.5 watts.
800mAh Battery With 90-Minute Charging Time
Designed with a strong 800mAh cell, this kit will last a long time without a recharge, even at 25 watts of maximum output.  Recharging the cell is as simple as plugging in its bottom USB interface into any wall outlet with the cable you'll receive with purchase.  Best of all, this port features a Type-C USB plug, so it's very easy to work with and it operates with a 0.74A current to finish the process fast, in just 90 minutes.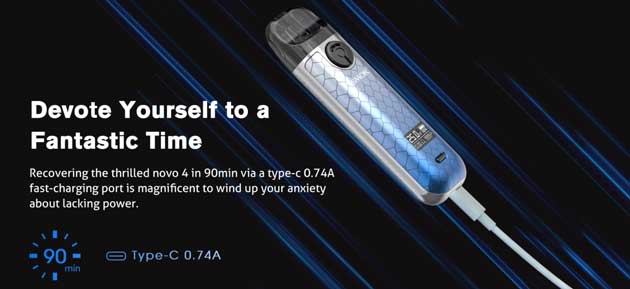 Leakproof Pods With 2 Mesh Coils Included
Each Smok Novo 4 kit includes 2 cartridges that insert into the top of the mod that works with brand new mesh coils to produce vapor.  These heads have a new design that added three silicone rings in order to fill the gaps in previous Novo devices. This effectively stems any liquid from leaking out which produces a better vape experience and also makes coil swapping a less messy process.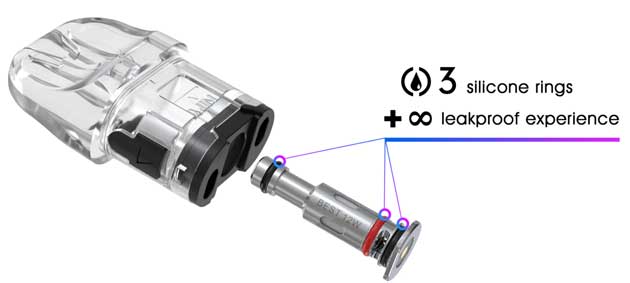 In the box, you will discover two LP1 meshed 0.8ohm coils that produce a soft flavor in the range of 12 to 15 watts.  This makes the Novo 4 kit perfect for vaping with nicotine salt or high nicotine vape juices.  For versatility, there are also two other coils available: the LP1 DC 0.8ohm coil that produces intense flavor and the LP1 DC1.0ohm coil for strong throat hit and the best MTL taste.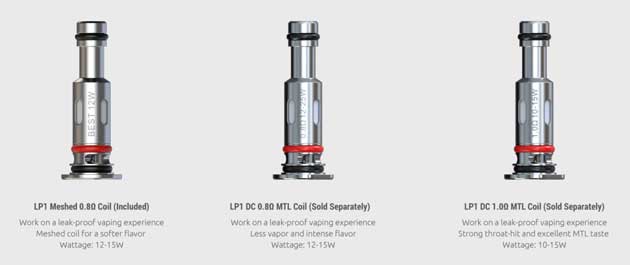 Depending on which color you decide to get, the Novo 4 pods are either transparent black or transparent white, both of which can hold 2ml of e-juice.  One benefit of the translucent nature of the cartridge is that you may easily monitor the e-juice level and perform a refill if required.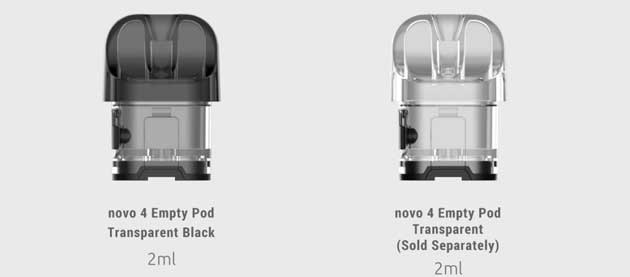 Adding vape juice to the cartridge is also uncomplicated.  To do so, pull out the pod and lift the side rubber plug, dispense e-liquid into the exposed juice port, and close.  Then, simply wait for 2 to 3 minutes to ensure the coil is saturated and vape away.

In The Box
With purchase, you will get the Novo 4 mod, an empty pod, two LP1 meshed 0.8Ω coils, a Type-C charging cable, and a manual.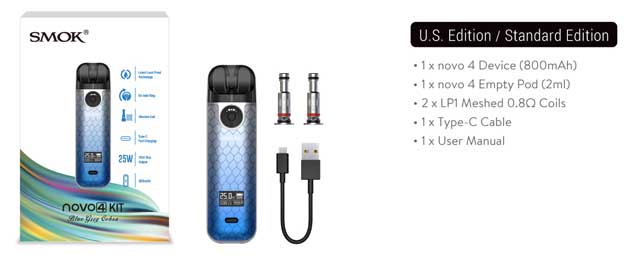 Features & Specifications
Size: 93.5mm × 17.7mm × 26.5mm
Weight: 51.7g
Color options: blue-grey cobra, cyan pink cobra, red stabilizing wood, black stabilizing wood, black carbon fiber, silver carbon fiber, fluid black grey, fluid 7-color, black armor, white armor
Tiny size
Ergonomic  drip tip
800mAh integrated battery
Type-C charging: 0.74A
Full charge within 90 mins
2ml pod
Side-fill plug
Adjustable airflow control
Leakproof coils

Included: LP1 Mesh 0.8Ω coil | 12W-15W | Soft flavor
Optional: LP1 DC 0.8Ω coil | 12W-15W | Intense flavor
Optional: LP1 DC 1.0Ω coil | 10W-15W | Strong throat hit

Power capability: 5W to 25W
Voltage input: 3.3V to 4.2V
Over-discharge Voltage: 2.4V
Overcharge Voltage: 4.3V
Output Voltage: 0.5V-4.0V
Safety features: over-puff, short-circuit, low voltage protection