Description
The Uwell Crown Pod Kit, which with the gothic pattern and the crown fire button provides an elegant look and comfortable to grip. the Crown Pod System with the draw-activated or button vape design, direct vape through an air pressure sensor or vape by pressing down the button, easy to use. the fire button with safe lock/unlock function, quickly press the button 5 times to lock or unlock your device to prevent accidental operation. the Uwell Pod Kit built-in the long-lasting 1250mAh battery and max output 25W provides the long stable output can charge the built-in battery via the micro USB port, the intuitive LED indicator light will show you the battery life or charging status. the Crown Pods can hold 3ml e-juice,  both sides with the transparent window to check the juice levels in real-time, no more burning. with the convenient top e-juice refill design, easily detach the drip tip to fill the e-liquid, no leaking issue. there is an airflow valve on the side of the Pod, you can adjust the intake air for the restriction for a tight cigarette feeling of openness for satisfying clouds. there are two types of Replacement Pods available, the 0.6ohm for Restricted DTL vape and the 1.0ohm for MTL vape. the Uwell Crown Pod System adopts the Pro-FOCS flavor testing technology provides vapers with the ultimate vaping experience by properly controlling the heating temperature, strictly managing the material quality and completely restoring the e-juice flavor.
Quick Links:
Uwell Crown Replacement Pods
Features:
Material: Aluminum Alloy + PCTG
Size: 95.6*30*18mm
Colors: Black, Grey, Blue, Red
Built-in 1250mAh Battery
Max Output Power: 25W
Draw-Activated or Button Vape
Lock/Unlock Function
Intuitive LED Indicator Light
Pro-FOCS Flavor Testing Technology
Open-Circuit Protection
Short-Circuit Protection
Low Power Indication
Over Vape Indication
—————————————————–
E-Juice Capacity: 3ml
Coils:
0.6ohm For Restricted DTL Vape
1.0ohm For MTL Vape
Convenient Top E-Juice Refill Design
Side Airflow Adjustable
Transparent E-Juice Window
Includes:
1*Uwell Crown Pod Kit
1*Crown Pod With 1.0ohm Coil(Pre-installed)
1*Crown Pod With 0.6ohm Coil
1*Micro USB Cable
1*User Manual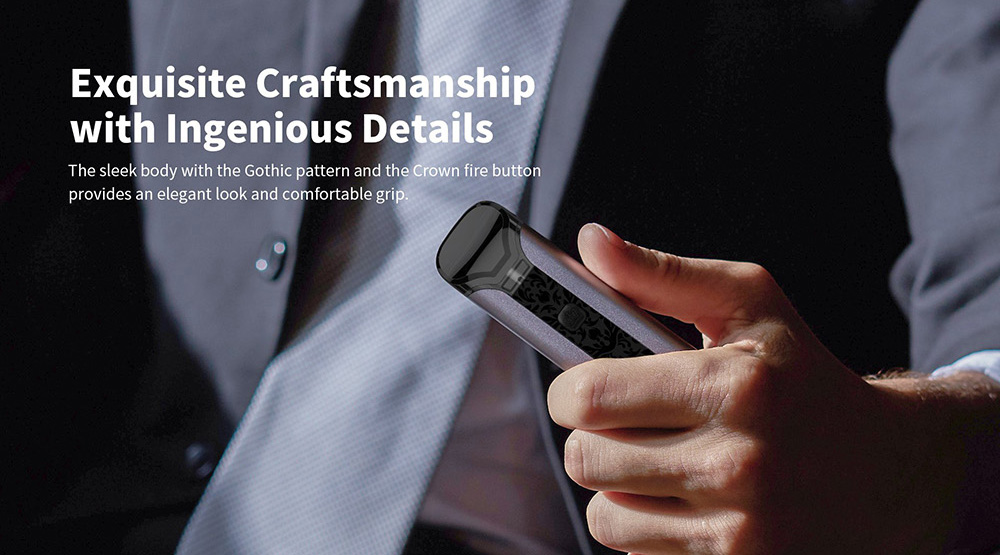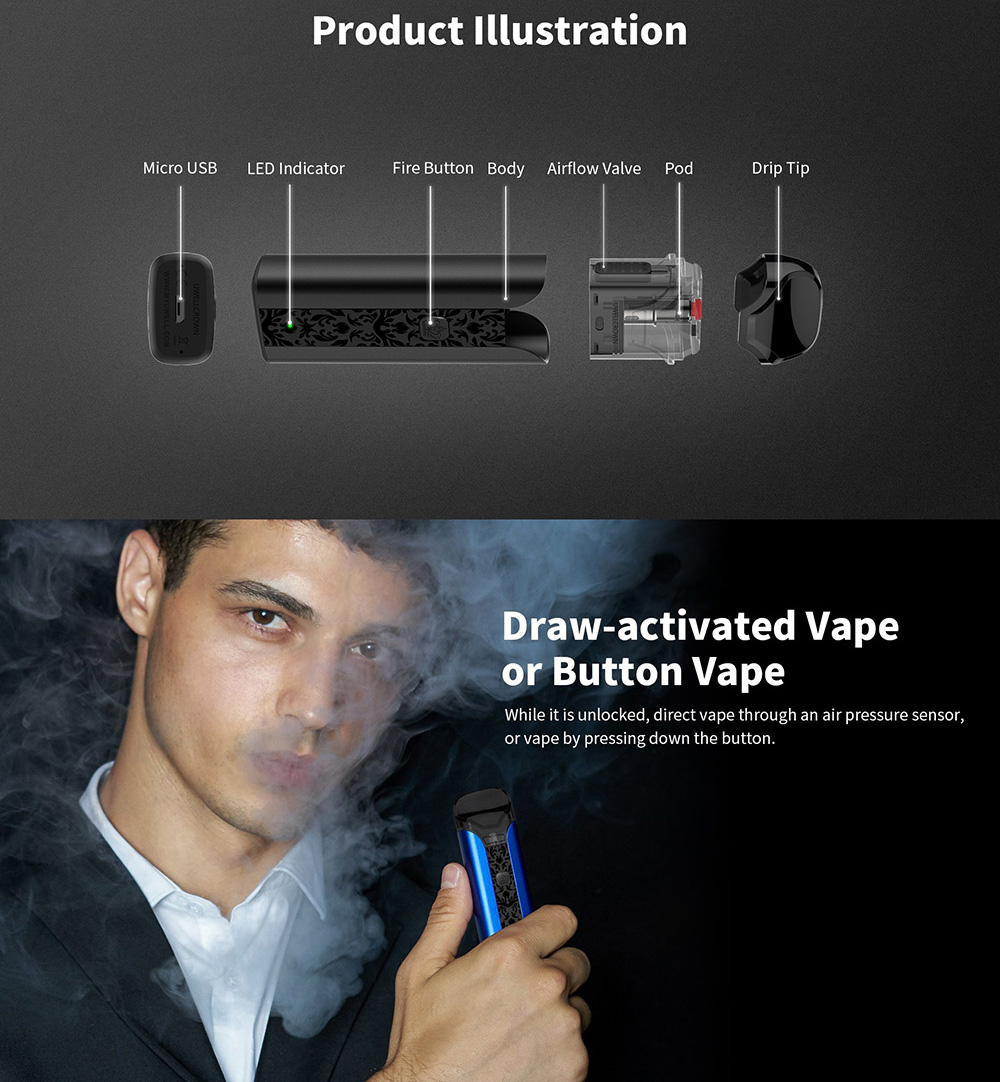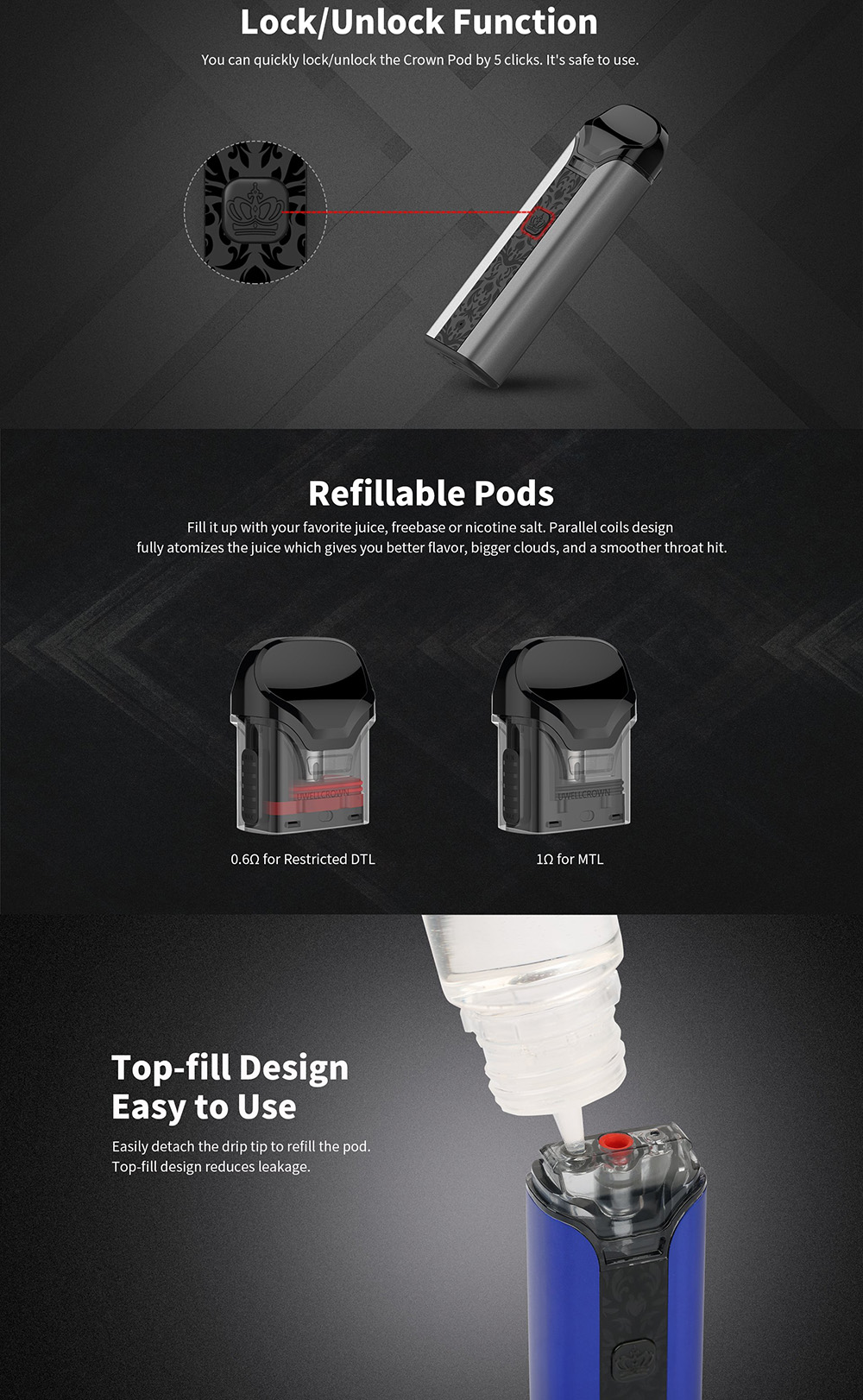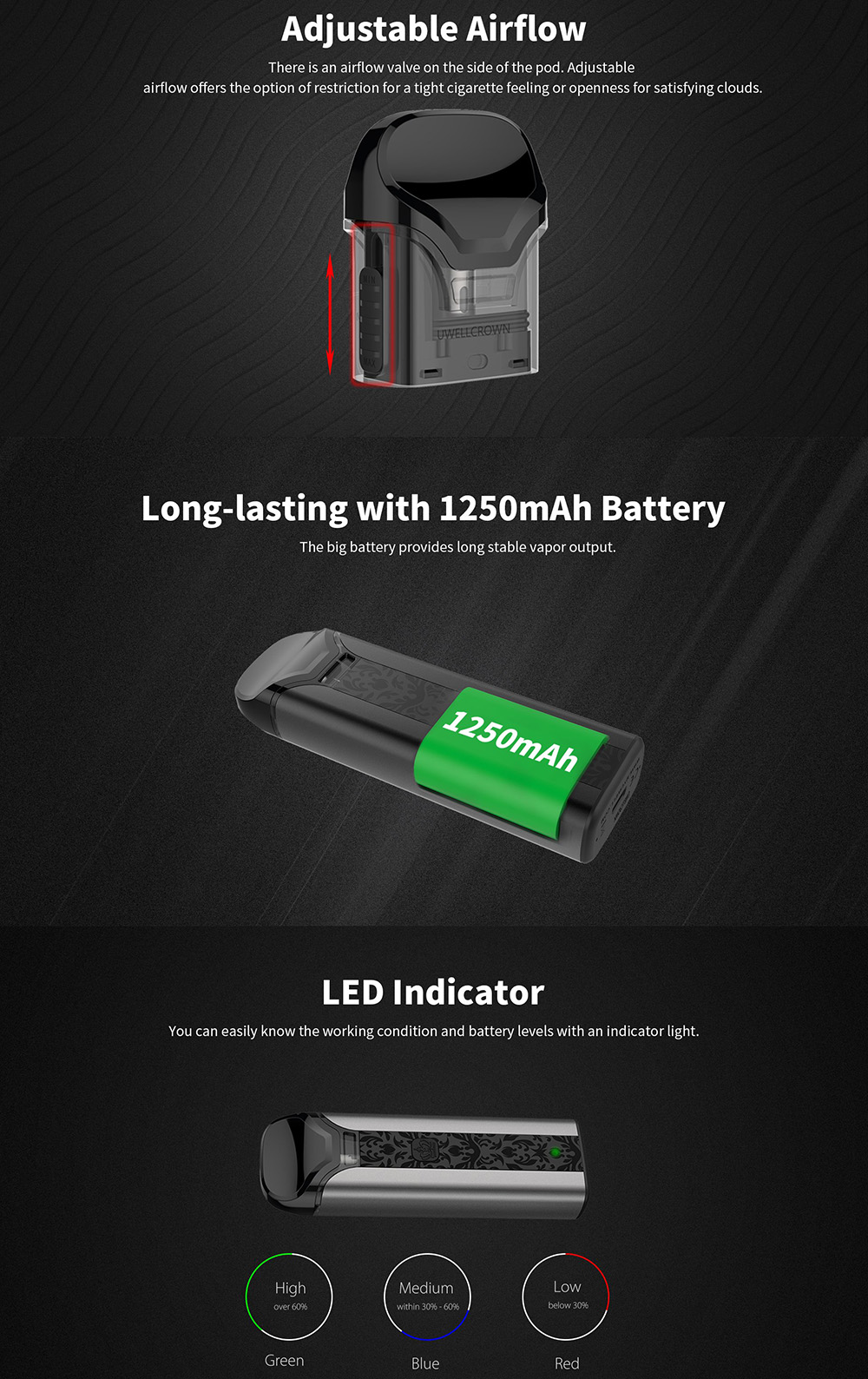 Note: please ensure you have basic knowledge on how to properly use it.
1)If the tanks use sub-ohm coils, vapers must be sure that your device and batteries can handle sub-ohm coils, only recommend experienced users order this, extra safety precautions should be practiced when using a sub-ohm tank. the tank only works with the mod that can support the atomizer and coil. if you have a tank and resistance is 0.3ohm, you must sure that the mod or battery can support resistance low to 0.3ohm. improper use and lead to injury or damage. use the OHMS LAW Calculator to check. if you have a question, please feel free to contact us.
2)users need to pay attention to Li-ion cells when vaping. the batteries very sensitive to charging characteristics and may explode or burn if mishandled. so vapers must have enough knowledge of Li-ion batteries in charging, discharging and assembly before use. please use the fire-proof surface battery charger, never leave a charging battery unattended. we will not responsible for damage to the human reason or mishandling of Li-ion batteries and chargers. the device always recommends work with rechargeable lithium-ion IMR batteries with min output current 20A or higher.
3) Smokstore will not responsible or liable for any injury, damage, defect, permanent or temporary that may be caused by the improper use of Li-ion battery, coils, tanks, mods. please have a basic knowledge of batteries. Welcome to contact us anytim